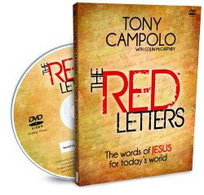 BOOKS, DVD, MESSAGES AND INFORMATION PACKAGES
If you are interested in learning more about Jesus and his mission or want to promote the ministry of Connect to family, friends or your church there is much information and resources available that pertain to our mission. Soon you will be able to order these books and DVD through this website (It is still under construction for now) but for now you have to settle for the books ordered via Amazon.  We have also included some Connect promotional materials. Enjoy. 
RED LETTER DVD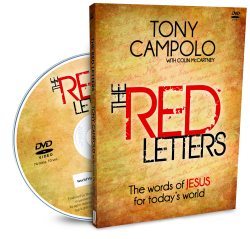 Through a series of six video conversations, Tony Campolo and host Colin McCartney discuss the radical but clear teachings of Jesus. Together, Campolo and McCartney confront complacency and assert that the issues Jesus spoke directly about should be the priorities of God's people. The social issues and values addressed in The Red Letters include taking care of the poor, finding justice for the oppressed, spreading the Gospel, and loving one's enemies. As they wrestle with thought-provoking questions in the video segments and companion 32-page Conversation Guide, groups and individuals will be challenged to make Jesus Lord over every dimension of their lives.
You can order this DVD from amazon.com
RED LETTER REVOLUTION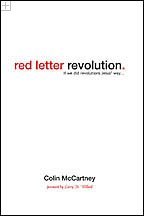 The "Red Letter Revolution" is about a global movement of Christians who are taking the actions of Jesus and his exact words—the "red letters" in some versions of the Bible—seriously. Colin challenges his readers to join this movement by responding to the poverty, racism, economic disparity, violence, classism, sexism and all other forms of injustice and oppression all around us like Jesus did. Through biblical exposition, rousing stories and practical application, Colin demonstrates that we can follow the radical words of Jesus only with the love of God and the power of the Holy Spirit.
This book won the Word Guild 2010 Canadian book of the year for apologetics.
You can order this book through amazon.com.
Sample Reading Of Red Letter Revolution
Read the beginning of the book here.
Sample Of Red Letter Revolution (1).pdf
Adobe Acrobat Document
94.5 KB
THE BEAUTIFUL DISAPPOINTMENT
The many challenges life throws at us do not shape us. How we respond to these challenges do. In "The Beautiful Disappointment" urban youth worker and author, Colin McCartney, shares his personal struggles in dealing with the murder of one of his staff, the death of a child in his program and his own near death experience from a paralysing water accident in Hawaii. While the author was recovering from this life threatening accident in the critical care unit of Maui Memorial Hospital he slowly realizes that trials are "beautiful disappointments" God can use to purge us off all the false things we have allowed to disfigure who we truly are. It is through this "refining by trials" that the author experiences the intimate presence of God, a presence in our soul that frees us to reconnect to who we truly are as God originally created us to be. A true story that will leave the reader truly changed.
This book was shortlisted as a finalist in two categories for the prestigious 2009 Word Guild Canadian Christian Writing Awards.
You can order this book through amazon.com.
PROMOTIONAL MATERIALS
Four Reasons To Support Connect Ministries
Four Reasons To Support Connect Ministries
A brief, one page, document outlining 4 simple reasons a ministry like Connect is so important and an appeal for involvement.
Reasons Why To Support Connect Sign Up.p
Adobe Acrobat Document
312.6 KB
Why Support Antioch School Of Church Planting And Leadership Development
The importance of developing local young leaders from government housing projects to be pastors or church planters within their own neighbourhoods.
Antioch.pdf
Adobe Acrobat Document
425.1 KB
Why Support Interns At Connect Ministries
The important role our interns play at Connect Ministries.
Intern Sheet.pdf
Adobe Acrobat Document
416.3 KB
Connect Promotion Card
A post card sized document used to promote the ministry of Connect
Connect Promotion Card.pdf
Adobe Acrobat Document
650.3 KB