GET INVOLVED:
Here are a few ways you can support Connect Ministries: 
1. PRAY
Prayer is our life blood. Please see the "Prayer Needs" link on the navigation menu for more details.
2. GIVE
Connect Ministries trusts solely in God to provide us the financial and material resources we need to fulfil His mission. We have developed different giving opportunities for individuals, churches and organizations who feel called to support our work financially.  If you feel called by God to support us please contact Judith McCartney - judith@connectministries.org . All donations are tax deductable. We are more then willing to meet with you or your group to discuss ways to support our work. Everyone who supports Connect receives regular reports on the ministry through our newsletter and our doors are always open to host you and / or your group for visits to see our ministry in action.
If interested in supporting Connect Ministries please give online to:
www.canadahelps.org/en/charities/cadence-leadership-resources
Or write your cheque to:
Cadence Leadership Resources
Re: Connect Leadership Ministries
200 - 20 Bamburgh Circle
Scarborough, Ontario
M1W 3Y5
Make sure you designate your gift to Connect Ministries.
Support Our Staff
Our Missionaries are dependent on the financial giving of kind donors. They need to raise support so they can continue to recruit, train and coach our young adults, leaders and churches sent to serve in urban centres.   Will you support them in their work?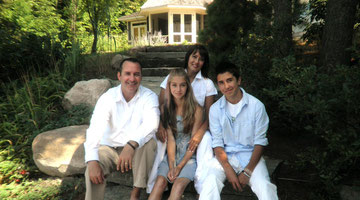 Colin and Judith McCartney are full - time missionaries and the founders of Connect Ministries.  Together they have over 50 years of  combined urban ministry experience. Rev. Colin McCartney is a visionary leader with entrepreneurial passion. He has also authoured two best selling books and has strong speaking, training and motivational gifts. Judith McCartney is an Arrow Leadership Graduate who is gifted with great hospitality, administrative and ministry training specialties. Together they have a unique missional calling to pour their lives into young leaders and inner - city churches who seek to serve Jesus among the poor and oppressed through the avenue of the church.
Adopt - An - Intern
Part of Connect Ministries mission is to recruit and equip young Christian leaders as they serve with one of our "Missional Communities" of young adults who will be serving in urban communities through struggling churches or church plants. These leaders intern with us for one year and while they serve in the city they will receive ministry training, leadership development, coaching and mentoring from our staff. Each Intern is involved in personal fundraising so they can cover the costs of living and serving in Toronto. Please consider helping them in their fundraising by adopting an Intern.  To learn more about our Interns and their ministry please click the "Ministries" link on the Navigational Bar found on the top of this page.
Adopt - A - Church / Church Plant
We also have a great opportunity for churches or small groups to be involved in a more personal way in helping struggling churches located in vulnerable communities through our "Adopt - A - Church" Program. You can also support a church plant as well. If your church or small group want to build a relationship with a struggling urban church or church plant then why not "Adopt - A - Church"?  By adopting a church you will provide funding to allow Connect Ministries and our Interns create and run exceptional community based programs with the churches we partner with or through the churches we plant. There will also be opportunities to be involved in the life of the church you adopt through volunteering, church visits, pulpit exchanges, church get togethers, etc. You will also receive a picture  of your adoptive church / plant and a community profile as well as regular updates on what is happening with your adoptive church / plant so you can pray for the church and the community it is located in.
3. JOIN A MISSIONAL COMMUNITY / BE PART OF THE RED LETTER MOVEMENT!
Jesus modeled a ministry strategy by raising up a "Mission Community" with the twelve and pouring His life into them while doing mission together. We at Connect Ministries endeavour to do the same. We have "Mission Communities" active in urban neighbourhoods working with our Interns and urban pastors, for the purpose of doing mission in partnership with struggling urban churches or church plants.
4. SIGN UP FOR A NEWSLETTER
Feel free to sign up for our newsletter. Let Judith know how you prefer to receive our newsletter (via email or hard copy via the mail?). Contact us at - colin@connectministries.org and we will get back to you ASAP.
5. ATTEND ONE OF OUR EVENTS
Keep in touch with us so you can hear about any upcoming events we are involved in so that you can hear more about what is happening at Connect Ministries. Our "Latest News" link on the navigation menu will keep you updated on all the latest news.
6. COME FOR A VISIT
Why not set up a time to come and see what Connect Ministries is up to? We enjoy hosting interested friends to come and see our ministry in action. Meet some interns, visit a church we are working with and be encouraged as you see God at work. If interested contact us at - colin@connectministries.org .